Fish Market and Old Bengal Bar
When I think of fresh fish or seafood to be honest London never ever comes to mind. Being that London is pretty far from the coast you would think that the quality wouldn't be great however I think that I may have just found a place that squashes that theory, and that my friends is Fish Market. Hidden in a side street 2 minutes from Liverpool street station you will find a very cool, warm and welcoming restaurant designed to provide you with some of the best fish and seafood around.
Located in an old warehouse the vibe of the place is uber relaxed and chill with fairly lights, sea related decoration and light and bright decor. My pal Laura and I decided to sit outside underneath the heater which surprisingly wasn't all that cold at all considering it was a chilly night. Here is what we ordered.
STARTER
My preferred choice for a starter is always a sharing board/platter as I love to try lots of different items, this also saves the FOMO (fear of missing out) feeling you get when your dinner date orders something better than you. Laurs and I opted for the Seafood Sharing Platter and it was bloody good. Garlic Prawns, Salt and Pepper Squid, Sole Fish Fingers, and Grilled Scallops. Heaven.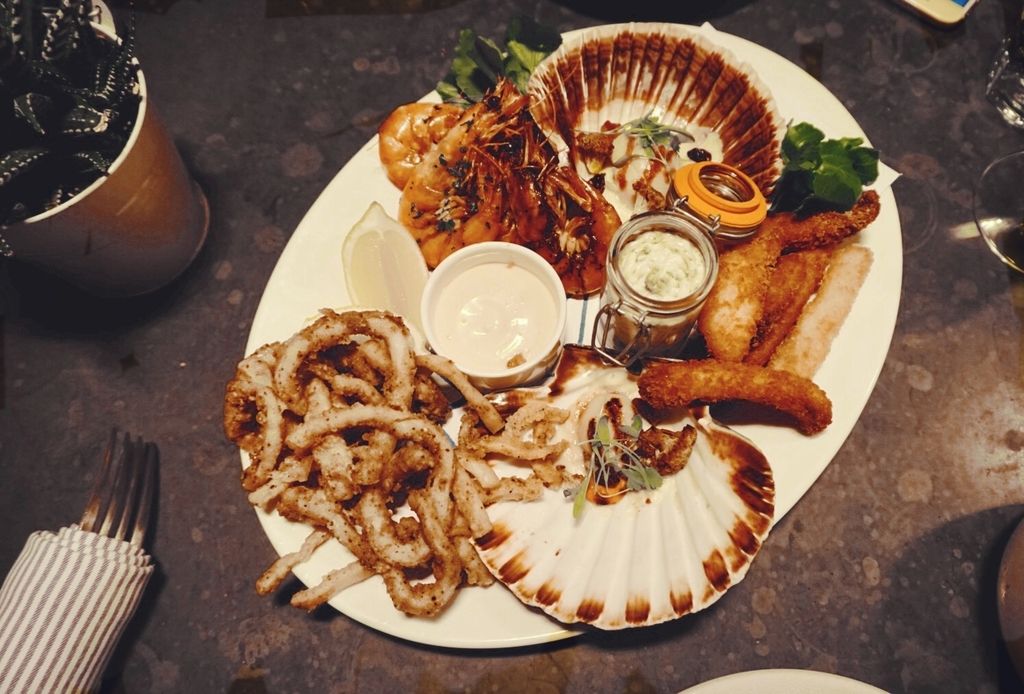 MAIN
This needs no written introduction because - hello Lobster. Garlicky, tender flavorful - perfect!
The fries were crunchy and delish and as I am such a good pal Laura and I had a claw each. Laura went for Sea Bass and it was DIVINE skin was perfectly cooked on a bed of Spinach and Mushrooms. Uhh just delicious.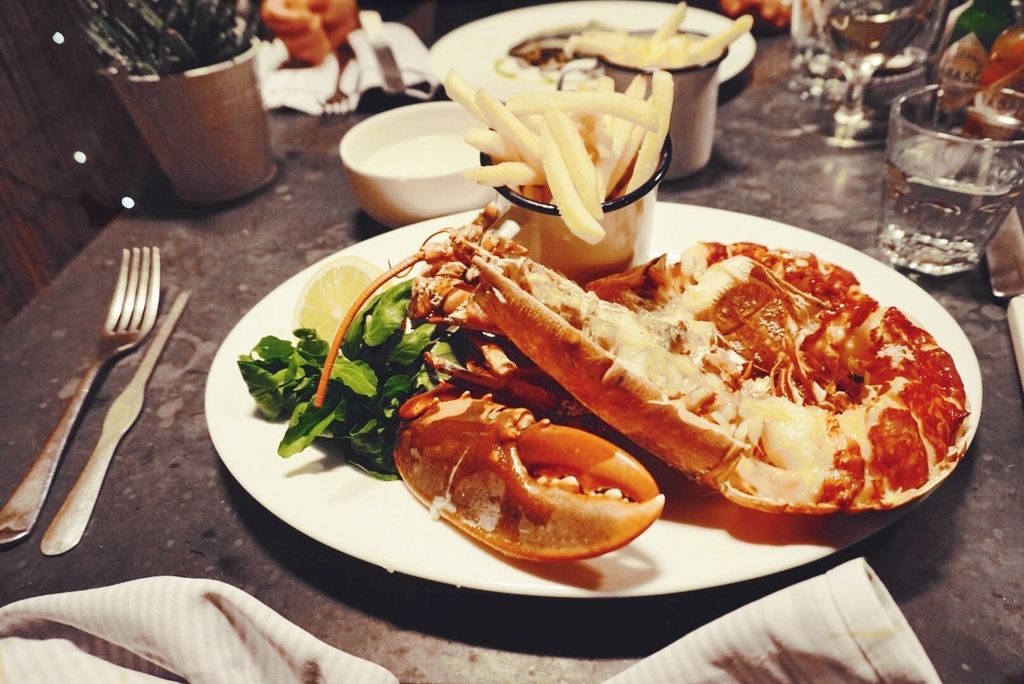 DESSERT
As I was specifically invited to Fish Market to celebrate Chocolate week how could I not try the limited edition chocolate pot designed in collaboration with super food chocolate producers, Doisy & Dam. Made using their maca, vanilla and cacao bars, the delicious dessert combines the bitter chocolatey flavour of cacao nibs with sweet vanilla and was a taste sensation. Uber rich with both a touch of sweetness from the shortbread and the creaminess of the mousse it was a lovely edition to the perfect starter and main.
AFTER DINNER DRINKS AT OLD BENGAL BAR
After the gorgeous meal we were invited to try the cocktails at Bengal Bar which is located just two doors down but in the same warehouse plot at Fish Market. Sufficiently stuffed we took the short stroll to the lovely Bengal Bar and ordered the most delicious cocktails! I went for a 'Yellow Fever and Laura went for Inu Rama both rum based cocktails which were so tasty and well put together. Prices range from £8-14 for cocktails and the menu has options for everyone! Make sure you get down and try one if you are ever hanging around the liverpool street area they are worth the treat.
Thank you to Fish Market and Old Bengal bar for kindly providing the meal and drinks complimentary.