I found my wedding dress! - My dress shopping experience with Davids Bridal
When I got engaged over Christmas I spent a lot of time daydreaming over what style and shape of dress I wanted. What length and what colour and how I would wear my hair you know the usual things you do when you begin to plan your wedding. I thought of how I would look and feel after childhood dreaming of meeting my prince charming, wearing my dream dress and being whisked away to live the happily ever after life. Well, unfortunately  life isn't quite like the fairy tale they tell yo,  whilst yes, I have found my prince charming (my lovely bearded boy Dan) finding *The Dress* wasn't quite as easy as I thought. Being plus size is something I have been all my life so it was no surprise to me that I had to look for plus size wedding dress when I shopped. When I asked on twitter and Facebook where other plus ladies had found theirs I received a rather mixed reaction. Many women spoke of how horrible finding a dress was for them, how they had experienced rude and judgmental sales assistants in smaller boutiques and more often that not could not find a dress in their size to actually try on. It is no secret that most bridal boutiques only stock sample sizes which are often an 8/10/12 so if you are bigger than that you kinda have to play a guessing game and just hope that what it look like pinned on will look right on you when it is ordered in. This irked me a lot. Why should a plus size women have a substandard experience simply because they are bigger? Women of all sizes fall in love and if they choose to get married they should get the wedding dress experience they deserve. So today I thought I would share with you my experience of finding my dream dress in the hopes that plus size women can feel that little bit less anxious when they go to find their dream dress.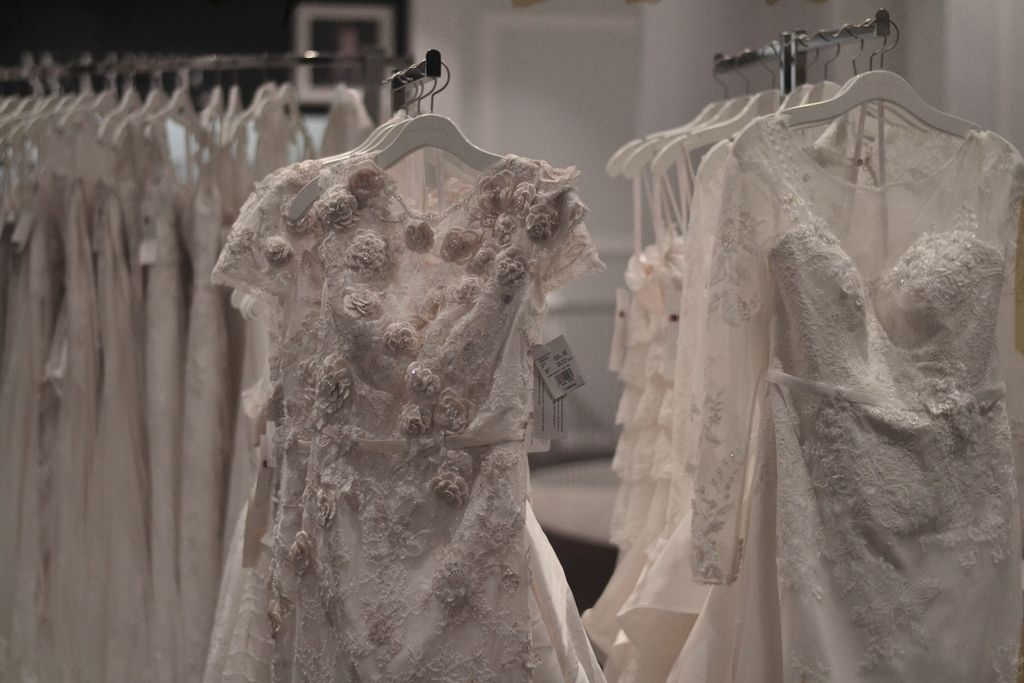 Well first off I shall tell you I found my dress in David's Bridal A lot of people recommended this place to me as they stock sizes 0-30 US  so when the PR team reached out to me to come and take a look at the store, I thought why the hell not! I rounded up my bridal squad and we booked an appointment for me to try some dresses on.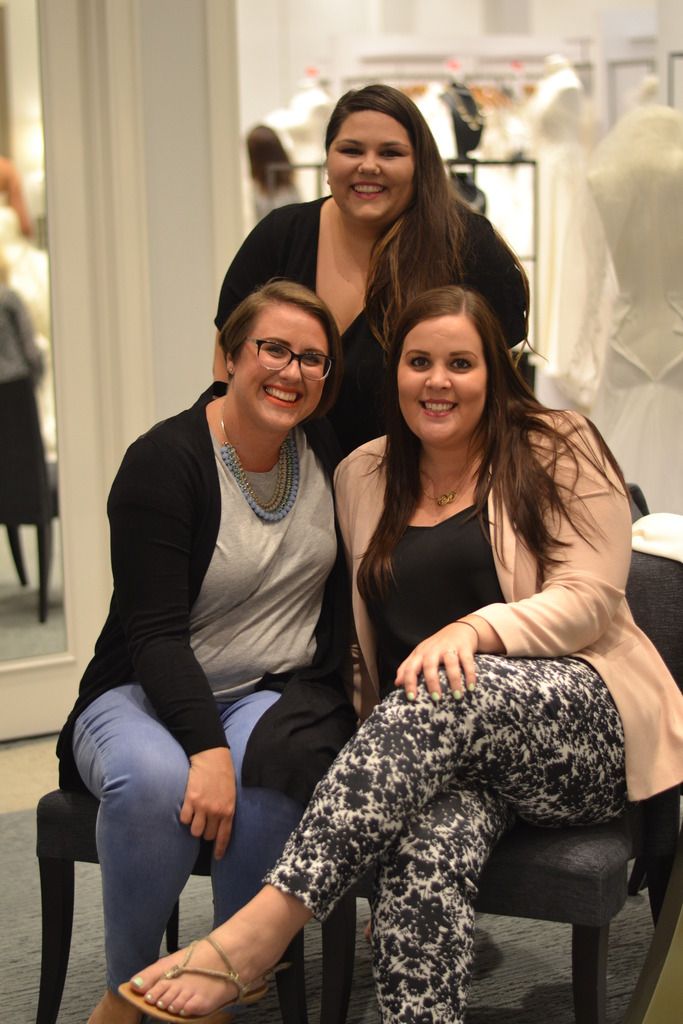 We arrived at 6pm and were greeted by my lovely personal stylist Laura who was there to assist me finding my dress. The first part of the appointment involves you running through when, where and what your wedding is about to make sure they get all the correct deets about your day. Next up is the measuring. This is to help the stylist find a dress with the closest measurements to your size, that way you don't have to be pinned in or hanging half out of a dress. Laura was lovely and jotted down all the details super fast before we plunged straight into trying the dresses on.
The first dress I tried on was a fitted A-line strapless dress, it was nice, but it didn't give me the feels so we rated it from 1-10 (we decided on 2) and moved straight on to the next. Dress number two was another A-Line style this time with lace applique and a lace short sleeved trim, this was beautiful and fitted almost perfectly. For a moment I thought it could be the one but then I began to pick faults, albeit very minor but faults all the same. It immediately went in to the maybe pile. Then it was time for dress number three *The Dream Dress* as soon as put it on and walked out of the changing room I knew. I looked in the mirror and started crying as did all my girls it was so beautiful. But you know what, I didn't feel like a princess, I felt so much more. I felt like the most beautiful girl in the world. Whilst I knew in my heart of hearts that I had found my dress I continued to try two more on, another strapless fishtail  and a very large puffy dress. I even got my girls to try on dresses with me whilst we pretended we were in a scene of Bridesmaids no sickness involved ;). Finally I ended the evening by trying on my dress again and in Davids Bridal tradition I rang a bell to show I had found my dress, the whole shop cheered and I felt utterly ecstatic with joy.
Every single part of the evening was special. The stylist Laura who helped me in and out of the dress and ran around all evening after me was a dream and I cannot encourage girls enough to give Davids Bridal a go. The dresses were gorgeous, the care and interest they had in helping was just impeccable and I am so grateful to have finally got my real life fairy tale. Finally here are a few of my favorites from the plus size wedding dresses that they stock. All can be found on the Davids Bridal website and if you have chance definitely pop into store to get a look of these beauties face to face.
Happy Wedding dress shopping my beautiful girls!