The Trading House London
It's not every day you get to arrive to a bar in a double Decker horse drawn carriage, and ride around the streets of London with a Bellini in hand. Guess that one is ticked off my bucket list. This was kindly something organised by the lovely folks at
The Trading House
a few weeks back when myself and Dan were invited to the soft launch of their new bar and restaurant. A sister bar of the very cool and renowned bars 'The Botanist' and the Alchemist from up North The Trading House may very well be the new perfect spot for after work dinner and drinks in London. Perfectly located a moment away from Bank and St Paul's this place is a must visit if you fancy tickling your taste buds and experiencing something a little different.
Inspired by the East India Trading company the interiors/drinks and menu stand out as a little different to your average London bar and food place. Set in an old bank the grade 1 and 2 listed building with it grand ceilings and warm and inviting decor (including taxidermy wall ornaments) makes you feel like you have traveled back in time for a second. The drinks menu includes spice twisted cocktails with flavours such as tea, spices, and floral elements, (sounds weird, tastes incredible) and also includes a huge array of beers and ales. Part of our preview was to make and taste the cocktails on the menu. The guys who were teaching the cocktail master class were so nice, and really knew their stuff, giving us a detailed history into why free pouring is actually the much more efficient way of making a cocktail and how they are one of very few companies who are licensed to do so. As well as sharing some very snazzy shaking techniques in how to make a perfect cocktail. Sadly, my attempts weren't as snazzy as theirs but I managed to make a reasonably tasty 'Rose Cosmo' albeit slightly more potent that perhaps it should have been.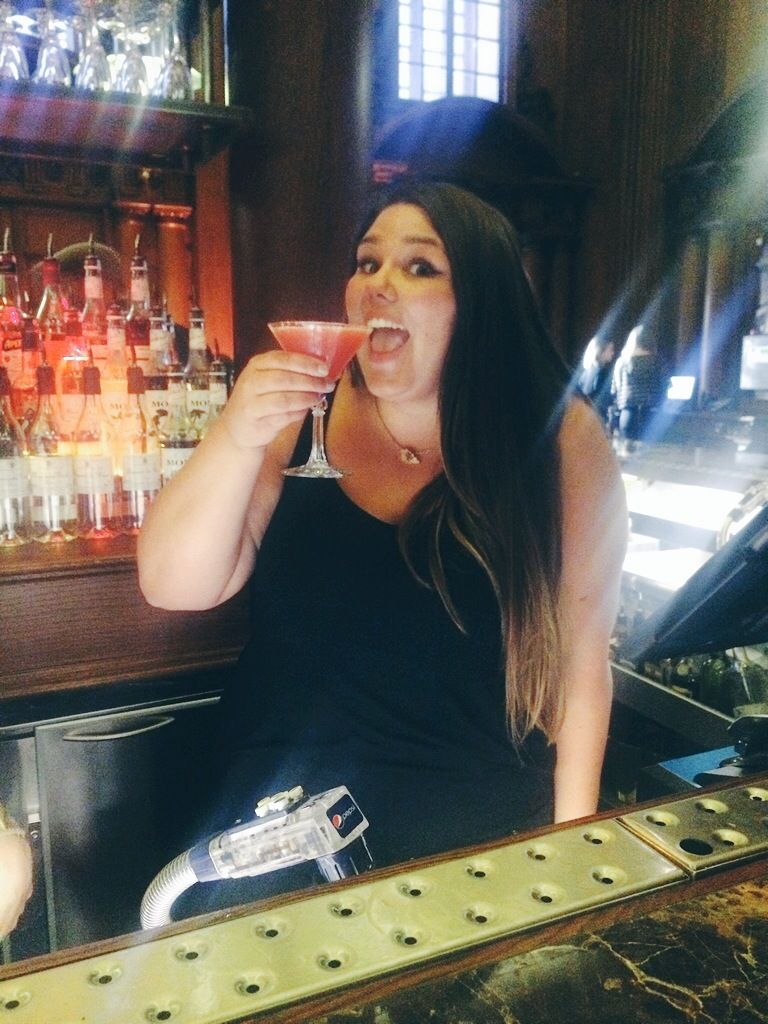 Dan's favourite cocktail of the evening was the 'Orange, cinnamon and Coffee' which he actually said is one of the best drinks he has ever had (he's a huge coffee fan) and for £7.95 it's a pretty sweet price considering it is a well made cocktail. So often in London I have been served an overly syrupy drink with half of the establishments ice in the glass, topped off with a lovely brown mint leave, you know, just to keep it snazzy. This place seems to take a genuine care with serving it's drinks and mastering the flavours for a perfect balance.
not sure what Dan is doing here but he looks cute ha.
My favourite drink of the evening was the English Mojito a perfectly flavoured Gin cocktail with not a brown mint leaf in sight. After our cocktail masterclass followed an Ale and Beer tasting session which was right up Dans street, we were able to identify and discuss the flavours we could taste in each of the Ales and for someone who particularly dislikes the taste of beer it was all pretty good. One even tasted like Banana!! The
beer and the ale tasting masterclasses
are also available for the public and I would absolutely recommend it if you are looking for something interesting and fun to do. The evening was such fun and I would honestly go and visit this bar again in a heartbeat, Dan and I thinking of heading back one evening for dinner and to watch some of the live music that is performed there every night and Dan wants to taste of the home brewed in house Ale. If you are around the area definitely pay a visit to this fantastic place.